TEXAS GOVERNMENTAL ENTITIES:
Membership in The Interlocal Purchasing System, is "FREE".
Download the documents required by your entity and submit to TIPS/TAPS for membership.
Interlocal Agreement
Board Resolution Authority
Schools must submit both the Interlocal Agreement and Board Resolution form. Other entities only need to submit the Interlocal Agreement form. Instructions on how to submit on found on the form itself.
If you have questions please contact us at (866) 839-8477 or email tips@reg8.net.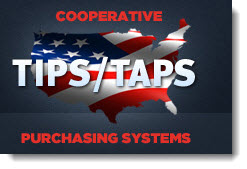 Authority:
Texas Education Code §8.002 permits regional education service centers, at the direction of the Commissioner of Education, to provide services to assist school districts, colleges and universities in improving student performance and increasing the efficiency and effectiveness of school, college and university operations. Authority for such services is granted under Texas Government Code §§ 791.001 et seq as amended. Cooperative Purchasing Services are extended to all Texas State, City and County Government Agencies.